Renewable Energy Systems
The Best Solution
ABOUT
Since 2019, the Solarwind company has been providing solutions in the field of renewable energy sources in Azerbaijan and the Caucasus region. Today, our company is one of the ten leading companies in the installation of solar, wind and hybrid power supply systems. Over the years of our work, we faced tasks of different scale and complexity – from the implementation of small individual projects to industrial solar and wind power plants with individual non-standard projects. We are looking for and introducing new products, components for solar energy that positively affect the price level. Since the Solarwind team consists only of certified specialists in the field of renewable energy, we guarantee highly effective, fast and reliable implementation of any project with minimal financial and time costs.
Tasks that Solarwind solves for you:
– We consult on all issues related to alternative energy sources
– After evaluating the project, choosing the most effective solution for its implementation, we organize the visit of our specialist to the place.
– We prepare for you an individual turnkey project with the selection of the necessary equipment according to the desired power, installation time, prices, possible discounts taking into account the characteristics of the place, solar and wind maps, topographical data of the area, as well as the terms of system availability.
– We carry out professional and operational installation of the system, start-up and adjustment of the equipment and putting the object into operation.
– We provide full warranty and post-warranty service for all our projects. Any system needs diagnostics sooner or later. Service maintenance is a complex of actions carried out by specialists of the Solarwind company for system prevention, identification of sources of losses, weak connections in the system, as well as a general assessment of performance with recommendations for its improvement.
– We prepare all the documents for connecting your power station to the public network. Our company has many years of experience connecting in short terms to various objects.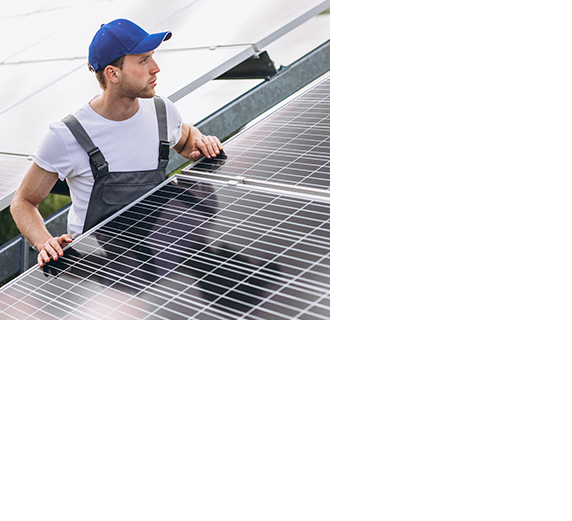 We offer you convenience and quality through the supply chain, value creation, project planning, production, services, financing, spare parts and technology
Any questions?
We are ready to help you!
Meet our professionals.
TEAM